Cultural and recreational hobbies
Discover Slow Tourism promoted by the Domaine de Vieillecour in the "Green Perigord"
Whether it is to discover Dordogne and the Périgord Vert or simply to recharge your batteries on site at the Domaine de Vieillecour, you will be able to enjoy many activities. We promote a stay in "slow tourism" mode, that is to say, to travel while taking the time to fully immerse yourself in the nature that surrounds you and the rich heritage of our beautiful region. It is to favor meetings, to savor the pleasures of the table with the concern of respecting the territory and its inhabitants (human or not). It also means favoring soft travel modes, with low CO2 emissions, allowing you to respect the ecosystems in which you will stay.
Enjoy a preserved environment within the Périgord Limousin National Park
First of all, you can start by discovering the estate and Vieillecour by strolling between woods, meadows and waterways, in an intact and preserved environment. You will most certainly come across tame inhabitants such as our Limousin cows, our chickens or cats but also, with a little luck, wilder ones such as deer, squirrels, foxes, weasels or even otters. To the delight of young and old, we organize photo hikes in our 28-hectare ornamental park where a herd of about twenty deers and hinds roam freely among the rest of the fauna and flora. During this walk, you will be able to take magnificent souvenir shots and depending on the season we will be able to listen to the slab of the deer or the songs of the birds, hunt mushrooms such as the boletus or wild aromatic and/or medicinal plants such as mint or bear's garlic.
Accomodations equipped to fully enjoy your stay
During your stay, don't hesitate to take advantage of the facilities in your accommodation: barbecue, sun loungers, ping-pong table, board games, etc. In order to refresh you, each rental has a swimming pool or a private Nordic bath unoverlooked.
The village of Saint-Pierre-de-Frugie
Go and discover our beautiful village of Saint-Pierre-de-Frugie, a precursor village in terms of ecological town management. You can walk through its streets to observe the funeral chapel and its Romanesque church. You will find an organic shop, open from Tuesday to Saturday, which will allow you to discover farm products from local producers as well as a whole range of grocery products. Every Sunday of the year it's producers' market in Saint-Pierre!
6 kilometers from the estate you will find the Park's House that will allow you to familiarize yourself with a number of outstanding natural sites to preserve, more surprising with each other: ponds, wetlands, peat bogs or limestone can be observed.
Sporting activities for everyone
For the more sporty and adventurous, Espace Hermeline, located 5 kilometers away and accessible to all (PRM), offers a whole range of activities: tree climbing, mini-golf, swimming, archery, bike-rail, etc. We also offer electric mountain bikes to rent that will allow you to explore Périgord Vert and the Périgord-Limousin Regional Natural Park with complete peace of mind through a range of marked trails and paths, which you can also use by walk . A huge treasure hunt by geo-coaching has been taking place for 10 years in the Nouvelle-Aquitaine region through more than 400 courses, it's Terra-Aventura, of which 49 courses are in Dordogne!
The Reynou zoo park
A little further north, near Limoges and 40 minutes from the area, the Reynou zoo park awaits you to spend the day with nearly 130 species from around the world.
The Périgord Vert : a wealth of heritage and culture
Fans of History and culture will not be left out. The Périgord Vert is full of castles, fortresses, abbeys and many other remarkable buildings. One can think of the Château de Jumilhac and its gardens, located 17 kilometers away, can be visited all year round and at night from July to August. Or the remains of the castle of Châlus-Chabrol and the town of Châlus or the castle of Montbrun and the historic center of Thiviers which are located about twenty minutes away.
And above all, don't forget to go and see the caves of Villars, decorated by our distant Cro-Magnon ancestors. The surrounding towns and villages are the scene of many events and cultural events such as in Nontron with its experimental center of arts and crafts in Périgord-Limousin or its knife festival.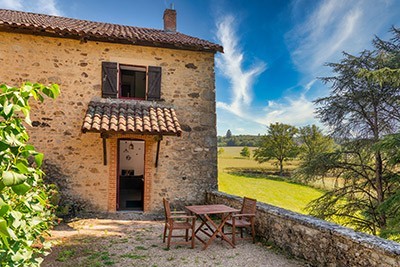 Book your stay in the Green Perigord with this comfortable cottage with a capacity of 3 people. Furnished and equipped with a living area of ​​50m². It consists, on the ground floor, of a kitchen […]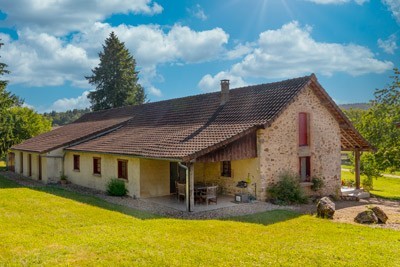 145m2 / 1-6 person(s) • Swimming pool
Book your stay in Périgord with this comfortable cottage with a capacity of 6 people. Furnished and equipped, the house has a living area of ​​145m². It consists of a modern kitchen with hotplat […]