History of the place Domaine de Vieillecour
The "Domaine de Vieillecour" in Dordogne is a place steeped in history as we can see through these few lines.
Saint-Vaast, local character
First of all, we can talk about Saint-Vaast who, according to some sources, was born in Saint-Pierre-de-Frugie, on the current site of the castle. He would have been the one who taught Catholicism to Clovis and who would have held his crown during his conversion by Saint Rémi during his baptism in 496 in Reims.
The origins of the Vieillecour castle
The first castle has its origins around the year 1000, but the monument as it exists today for the most part dates from the 12th century, with an estimated end of construction in 1120. It initially had a defensive role and was for a long time a fortress, as evidenced even today by its layout, fortifications, geographical location and architecture. It is built in such a way as to dominate the surrounding valley, in the form of an incomplete quadrilateral nowodays. Its enclosure has retained its battlements. It is flanked by a square tower and five round ones.
Richard Lionheart, distinguished guest of the Vieillecour castle
During the siege of Chalus in 1199, King Richard Lionheart was seriously injured by a crossbow bolt. He found refuge in the castle of Vieillecour 6 days before dying from his wound. According to local sources, he would have died on the spot and his death would not have been announced until later in order to not demoralize the troops still leading a siege.
A castle full of history
173 years later, in 1372, one of the major French figures of the first part of the 100 years war, Bertrand du Guesclin, had his troops stay there for several weeks, after having retaken the town of Saint-Pierre-de-Frugie from the English.
Sixteen years later came a new constable of France, Charles d'Albret, of which Vieillecour was the stronghold. It was from Vieillecour that he led the siege of Courbefy, for twelve weeks, and it was at Vieillecour that the 140,000 crowns in ransom were paid to the besieged to evacuate the place.
But the story is not only military; famous troubadours like Bertran de Born and Bertrand de Ventadour made numerous stops there. Then Jeanne d'Albret, the mother of the future King of France, Henri IV, often stayed at Vieillecour. She renders justice in her stronghold, then very frequented. It is moreover Jeanne d'Albret, or Henri de Navarre himself, who would have sold Vieillecour in 1590 to Antoine Mosnier, squire, Lord of Palneau, ennobled Lord of Vieillecour.
Significant transformations from the 15th century
In the 15th century, then in the 17th century, the castle underwent major transformations. An oblong Logis is created. Vieillecour, from a fortress, becomes a pleasure castle. In 1850, the water moats were drained, part filled in terraces: the inner courtyard was opened and the drawbridge became a dormant bridge. The castel takes on the appearance that we know today. Very important restorations, exterior and interior, have since restored this castle to its former appearance with the benefit of today's comfort.
It has been listed as a historical monument since October 4, 1946. The Vieillecour estate is a private property full of French and English history, in which you can participate by booking your stay in order to live a unique experience, with family or friends.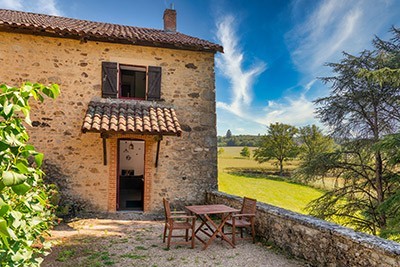 Book your stay in the Green Perigord with this comfortable cottage with a capacity of 3 people. Furnished and equipped with a living area of ​​50m². It consists, on the ground floor, of a kitchen […]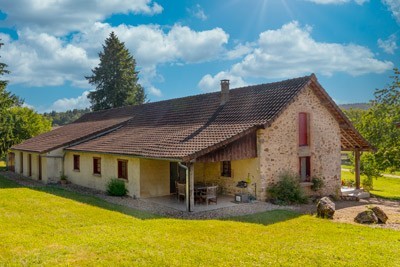 145m2 / 1-6 person(s) • Swimming pool
Book your stay in Périgord with this comfortable cottage with a capacity of 6 people. Furnished and equipped, the house has a living area of ​​145m². It consists of a modern kitchen with hotplat […]